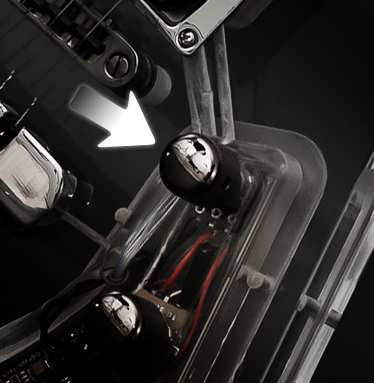 SHADOW KILL POT (KILLSWITCH)
The killswitch was made famous by guitar greats such as Eddie Van Halen, Buckethead, and Tom Morello of Rage Against the Machine. It is a momentary on/off switch which kills the output signal from your guitar for as long as you hold it down, allowing the player to create an array of effects including the aggressive "chopper" effect. This switch is cleverly hidden inside the volume knob to maintain the sleek, minimalist design of the guitar.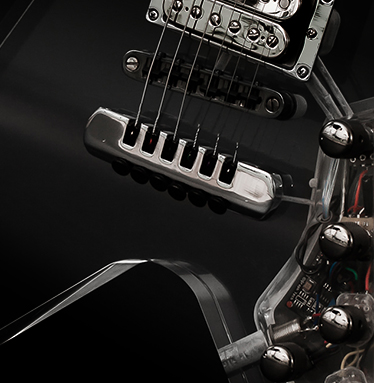 GRAPHTECH "GHOST" ACOUSTIC PICKUP BRIDGE SCHALLER HARD TAIL
The Graphtech Ghost pickup system, in black chrome finish, is loaded with piezoelectric crystals which harness vibrations rather than magnetic signals. When combined with a Graphtech Acousticphonic preamp system, players get a very convincing acoustic guitar sound. A sound made even better when ran through an acoustic guitar amplifier.

The Schaller Fine Tuner Tailpiece allows you to make the finest adjustments while maintaining some tuning flexibility when strings are locked with the Gotoh Locking Tuner machine heads. It comes in a chrome finish to add contrast to the instrument's design.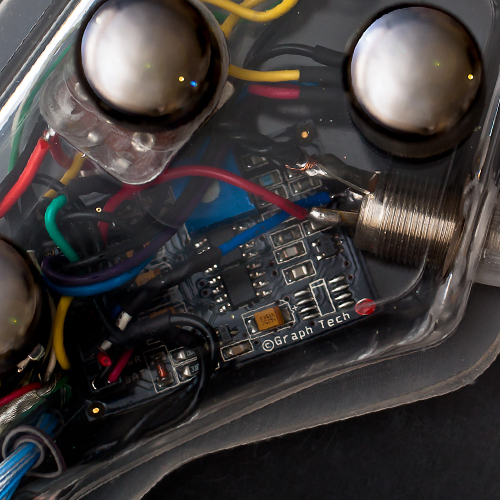 GHOST ACOUSTI-PHONIC PREAMP
This Graphtech preamp kit works in conjunction with the Ghost piezo pickups to produce an authentic, rich, natural acoustic guitar sound from your acrylic axe. The preamp board can be seen as clear as day through the transparent body of the guitar, and comes with a push/pull switch wired directly into one of the knobs which gives your acoustic sound a mid-range boost. The battery needed to power this unit is hidden beneath the back of the guitar pickups where a screw-in panel has been added for easy access through the back of the body.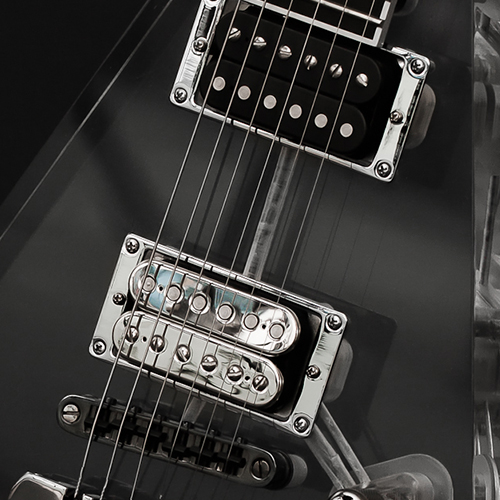 DIMARZIO PAF 36TH ANNIVERSARY PICKUPS
For an unconventional material like lucite, harnessing the tone is important. These pickups were chosen specifically for their versatility. In line with the Intenebris aesthetic, these pickups are a halfway point between low and high gain, allowing the player a range of tone options. Finding your tone is as important to a guitarist as finding the right accessory is for your style.
TONE GUIDE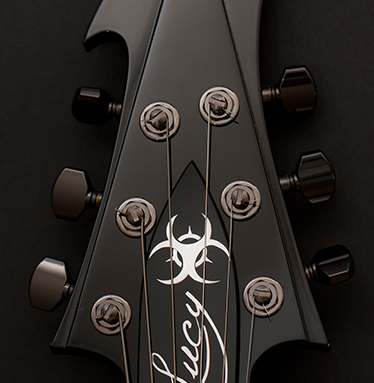 GOTOH LOCKING TUNERS
These black chrome tuning machine heads by Gotoh are every guitar tech's dream. Locking the string eliminates the need for multiple winds of the guitar string, which in turn means extremely fast string changes, and a much more stable tuning.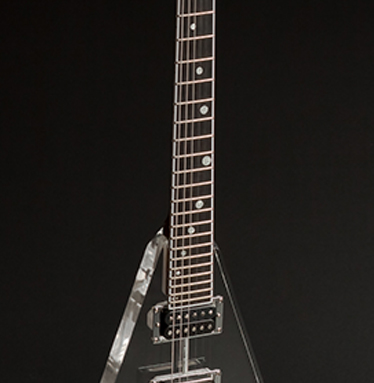 CUSTOM WARMOTH NECK
One of the most important parts of the build, this neck features maple wood with an ebony fret board—both for balance and the duality of the Intenebris design aesthetic. With a wizard II ultra slim profile (commonly used in Ibanez guitars), and 24 jumbo stainless steel frets, it's very well suited for comfortable playing and fast soloing. It also features white binding and pearl Nightswan Inlays; a fret dot configuration used by Kramer in the 1980's in the titular signature model for Vivian Campbell of Def Leppard.